Two weekends ago, we celebrated Kevin's first Father's Day.
Kevin's parents and brother came down. It's always nice to have them visit, and they looove hanging out with Abby.
I texted this picture to Kevin, and his reaction? "Looks like Dad found the Murphy's!"
Abby's starting to distinguish between "Mommy" and "Daddy" and "Everyone Else," so it did take her a little bit to warm up to Grandma and Grandpa, this time. She loves this little barking dog, though. She had started to fake cough about a week earlier, and Grandpa swears that she fake coughs when the dog barks because she's trying to talk back to it. Maybe! And Grandma is certain that when she reads
Moo Baa La La La
that Abby sings along with the "la la la." This is just one of the reasons why grandparents are awesome!
And, as far as fake coughing goes, Abby found it HILARIOUS when Grandpa fake coughed at her:
My favorite part is when Kevin tries it, and Abby just looks at him like, "What are you trying to do?" It's also great when she starts looking at Grandpa expectantly, her face asking,"Well? Are you going to do it?"
Abby also tried her first solid food while the family was here! That's a post for another time, though. For the grown ups, Kevin's mom helped me make
Pioneer Woman's Ribeye with Whiskey Cream Sauce
. Yum! The steak is done very simply, but the sauce is fantastic - and easy, too. Abby just had some avocado - I hope she didn't feel cheated.
I, er, Abby got Kevin, his father, and his brother beautiful engraved pint glasses (you know, because none of them have enough pint glasses) that say "Dad," "Grandpa," and "Uncle" (respectively on each glass), "EST." and Abby's birth date. I don't have a picture of the actual glasses, but I got them from
Dustyroadgurl
on Etsy.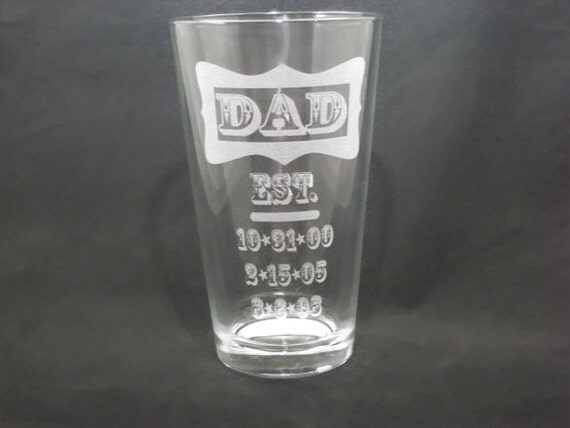 From Dustyroadgurl's Etsy page
After Kevin's family had left, Abby gave one last Father's Day present - she sat without help for the first time!
She's getting to be such a big girl! And sassy, too!
Definitely in a good way,